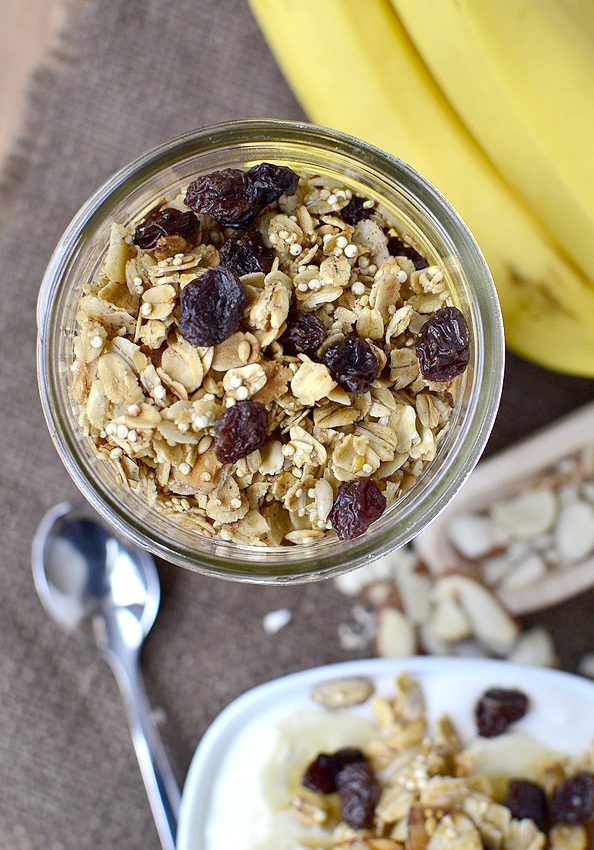 Directions
Approx 8-10 hours ahead - Thoroughly rinse quinoa and set to soak for 20-30mins (can be left overnight). Drain water and spread the seeds on a clean kitchen towel. Cover and keep away from direct sun light for upto 8 hrs. When you see tiny sprouts they are ready to use, you can begin checking after 4-5 hrs. If you don't see any sprouts after 8 hrs then rinse, drain and repeat the process of spreading them out for another 8 hours.
When ready to make granola, Pre-heat oven to 325F/160C.
In a large bowl over a pain of simmering water combine butter & oil. Add raw honey, pomegranate molasses, vanilla extract to melted butter and whisk together. Remove from the heat.
Add the dry ingredients (excluding dry fruits and orange zest) and mix together coating them with the wet mixture.
Spread the mix evenly on a baking sheet lined with parchment and place in the center rack of the oven. Bake for 30-40 mins, flipping it every 10mins. Once you begin smelling the toasted nuts and oats check to see if they've turned a light brownish hue.
Remove pan from oven and sprinkle chopped dried fruits, finely grated orange zest and combine. The oats may not be crunchy right out of the oven, let them cool a bit to dry out and get deliciously crunchy.
Store in an clean and dry air tight container on the counter for upto 2 weeks or move to the refrigerator for longer shelf life.
Ingredients
3 cups Really Healthy Sprouted Oats
1/2 cup -each of almonds, pecans coarsely chopped
1/3 cup each cranberries, raisins, coarsely chopped
2 tbsps finely diced crystallised ginger (with no sugar)
2 Tbsp - coconut oil, raw honey, pomegranate molasses
2 Reviews