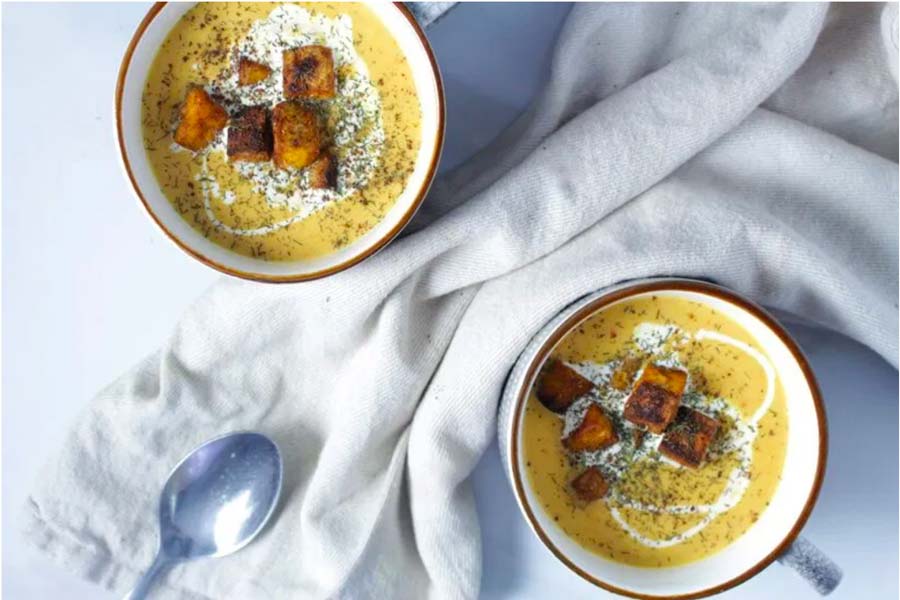 Cauliflower and Turmeric Soup
Lunch, Soup Gluten-Free, Ketogenic, Ketogenic-Vegan, Vegan
May 15, 2020
Delicious Creamy Turmeric and Cauliflower Soup recipe that's both vegan and keto. The recommended cold remedy if you are feeling under the weather.
Prep: 5 mins
Cook: 25 mins

5 mins

25 mins

30 mins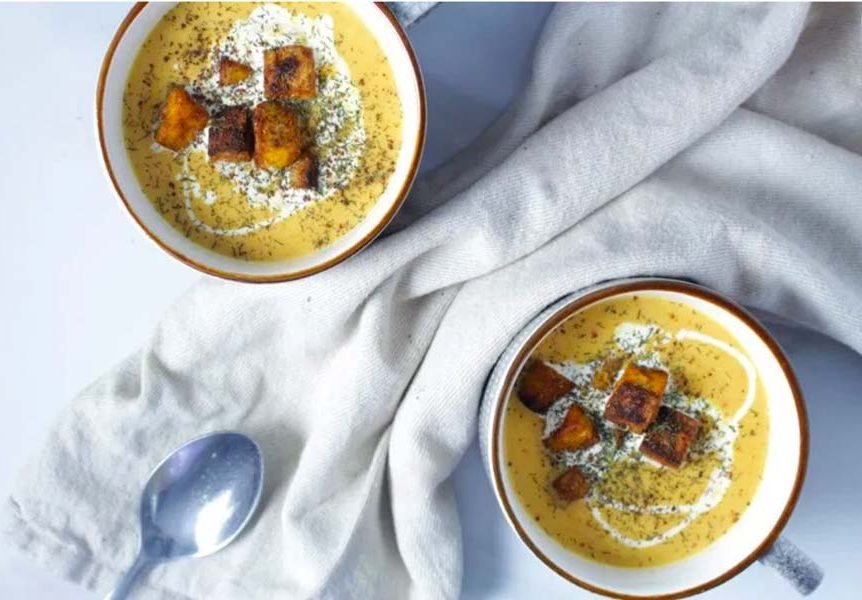 Directions
1. Preheat your oven to 400 F.
2. Bring 8 cups of water to a boil in a large pot. Add your cauliflower, carrots and ginger. Cook for about 20 minutes on medium-high heat until your veggies are completely cooked through and are very soft.
3. While your soup is cooking, cut your block of Tofu into 32 cubes and place in a bowl. Add the rest of the seasoning and mix. Place your Tofu cubes on a parchemin paper covered cookie sheet and bake for 20 minutes or until brown and crispy.
4. Turn the heat off your soup and let it completely cool down. Using an immersion blender, blend your soup until smooth. Turn the heat back on and add: Salt, Turmeric, Black Pepper and Coconut Milk. Stir and cook for another 5 minutes. Turn the heat off and let it cool down for 5 minutes before serving.
5. Serve your soup topped with croutons, a drizzle of coconut milk and your favourite dried herbs.
Recipe Credit Source: https://www.brokefoodies.com/vegan-keto-recipe-cauliflower-soup/
Ingredients
1 large head of Cauliflower, cut into 6-8 large chunks
1/2 large Carrot, peeled and cut into 4 pieces
1 thumb size piece of ginger, cut into 4 pieces
Crispy Tofu Crutons
454 g Extra firm tofu (approx. 1 pack)
Garnish
Your favourite dried herbs e.g dill
0 Reviews