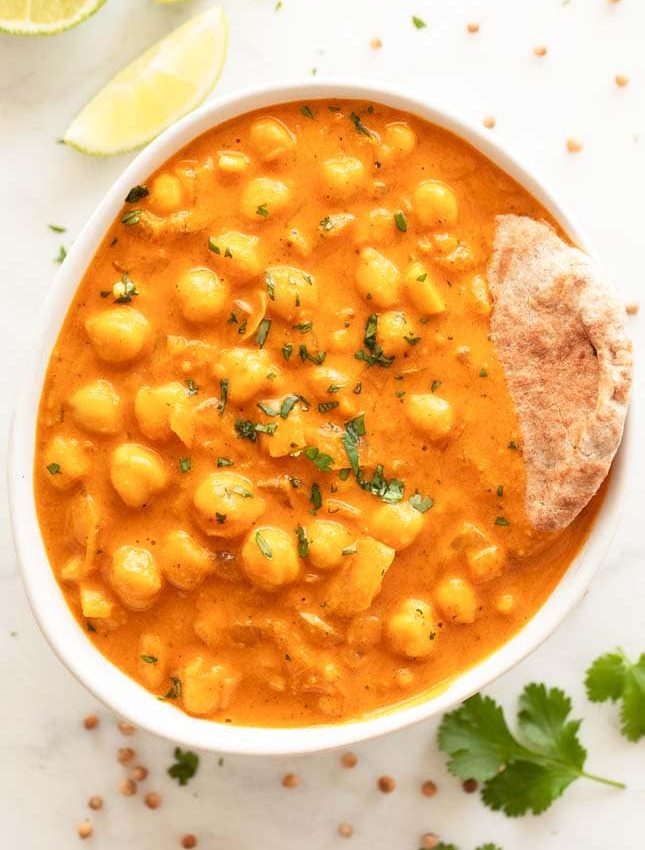 Directions
1. Heat the oil in a large pot and cook the garlic, onion, and ginger over medium-high heat for 5 to 10 minutes or until golden brown, stirring occasionally.
2. Add the spices (curry, cumin, turmeric, coriander, black pepper, and red pepper flakes), stir, and cook for 1 to 2 more minutes.
3. Add the chickpeas, coconut milk, tomato paste, and salt. Stir and cook for about 10 minutes, stirring occasionally.
4. Remove from the stove, add the lime juice and coconut flour, stir and let it stand for 5 minutes before serving.
5. Serve immediately (optional: add some chopped, fresh cilantro on top) with some quinoa and veggies on the side.
6. Keep the leftovers in an airtight container in the fridge for 5-7 days or in the freezer for up to 6 months.
Notes:
1. If you don't eat oil, just use some water or vegetable stock instead.
2. You can also use 1 and 1/2 cups of cooked chickpeas (250 g) instead of the can of chickpeas.
3. Feel free to use any veggies and spices you have on hand.
4. I'd use fresh garlic and onion, although garlic and onion powder are also good options.
5. Ground coriander is optional; if you can't find it, just omit it.
6. You can also replace red pepper flakes for cayenne powder, jalapeños, fresh chilies, or anything you want to make your curry spicy. If you're not into spicy food, omit this ingredient.
7. Use some tomato sauce, crushed tomatoes, or even fresh tomatoes if you can't find tomato paste. If you use fresh tomatoes, just chop them and cook them with the other veggies.
8. You can replace the lime juice with lemon juice.
9. Coconut flour is a great way to make your curry creamier and thicker, but it's totally optional.
10. If you don't like coconut milk, feel free to add any other kind of milk, although you can use a full-fat plant milk so the chickpea curry has a better texture.
Recipe Credit Source: https://simpleveganblog.com/chickpea-curry/
Ingredients
1 inch piece of Ginger Root (about 2.5cm), chopped
1/2 tsp Ground Coriander (optional)
1 x 15 oz. can of Chickpeas (425g), drained and rinsed (see notes)
1 x 14 oz. can of Full Fat Coconut Milk (optional)
1 tbsp Lime or Lemon juice (optional)
1 Review