Easy Vegan Lasagna
January 16, 2020
This delicious dairy-free and gluten-free Vegan Lasagna swaps out the noodles with zucchini (courgettes) and is excellent when paired with an easy cashew cream sauce.
Prep: 45 mins
Cook: 45 mins

45 mins

45 mins

1 hr 30 mins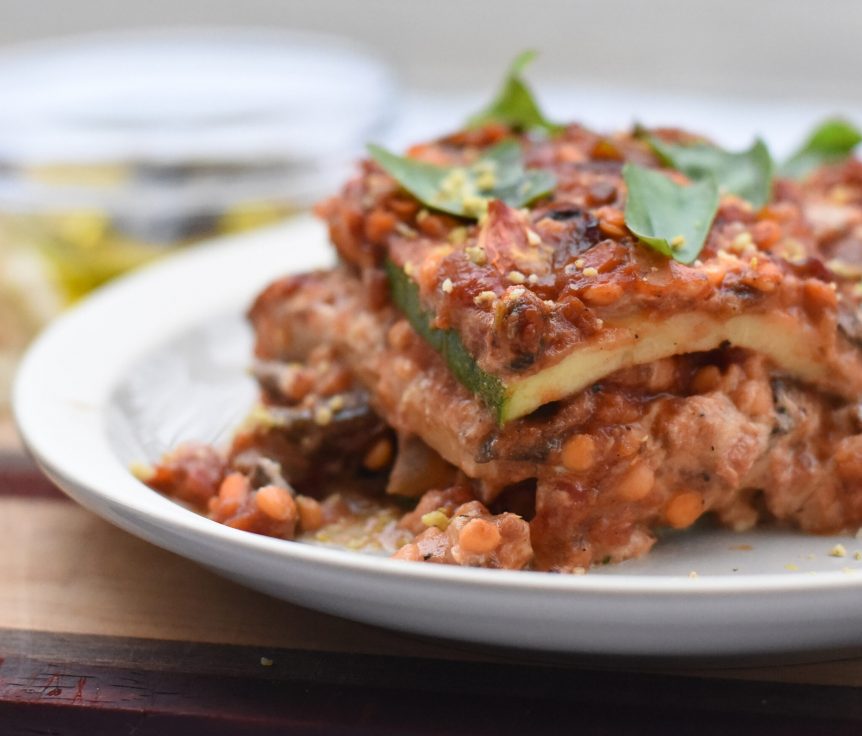 Directions
1. Preheat oven to 350 degrees.
2. Place the cashews in a medium-sized glass bowl. Boil 2 cups water and pour over the cashews. Set aside for 45 minutes to 1 hour while you slice the zucchini and make the tomato sauce.
3. Heat the olive oil in a large sauce pan or deep-sided skillet. When shimmering, add the onions and sauté on medium-low heat until starting to turn golden brown. Add the garlic, oregano and crushed red pepper and sauté 1-2 minutes.
4. Increase the heat to medium and add the tomato paste. Continue cooking until the tomato paste is fragrant and turns a dark red.
5. Add the carrots and button mushrooms and stir to coat.
6. Add the diced tomatoes and allow to simmer for 10 minutes.
7. Add the red lentils and lemon juice, stir and remove from heat.
8. Using a mandolin (or a sharp knife), thin slice the zucchini lengthwise into ¼" strips. Place the strips on a clean towel (or paper towels) and sprinkle with 1 tsp. salt. Allow to rest for 10 minutes, then pat dry.
9. In a blender, combine the soaked cashews (drained from soaking water and rinsed) with water, lemon juice, nutritional yeast, garlic and salt. Blend until creamy.
10. Lightly coat a deep baking dish with olive oil, then make a bottom layer of slice zucchini, add a thin layer of cashew cream and season with salt and pepper. Then add a layer of tomato sauce. Repeat this process two more times.
11. Bake for 45 minutes at 350 degrees. Remove from oven and allow to rest for 10 minutes. Top with fresh basil and vegan parmesan.
Recipe Credit Source: https://herbivoreskitchen.com/2020/01/easy-vegan-lasagna-recipe/
Ingredients
For The Sauce & Zoodles:
2 cloves of Garlic, minced or pressed
8-10 Button Mushrooms, washed and dried
1 28 oz. Can of Diced Tomatoes
1/2 cup Dried Red Lentils, rinsed and dried
For The Cashew Cream:
1 cup Cashews or Cashew pieces soaked in hot water
1 Review