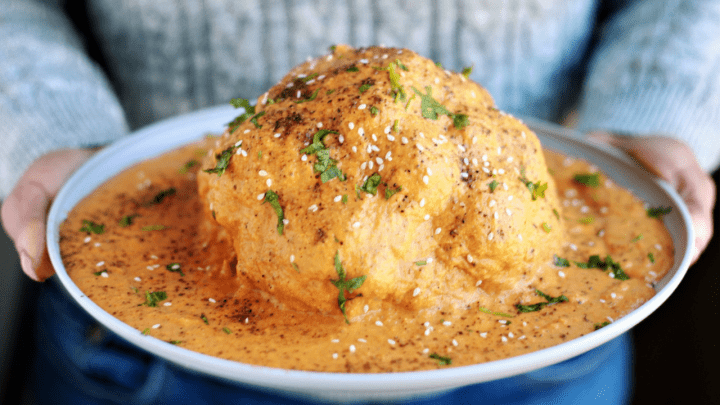 Instant Pot Roasted Cauliflower In Indian Masala
October 11, 2019
Whole roasted cauliflower with a thick and creamy Indian Masala Sauce. Full of rich flavours and aroma. Vegan, gluten-free, and perfect as a dish to serve during the holiday season.
Prep: 10 mins
Cook: 10 mins

10 mins

10 mins

20 mins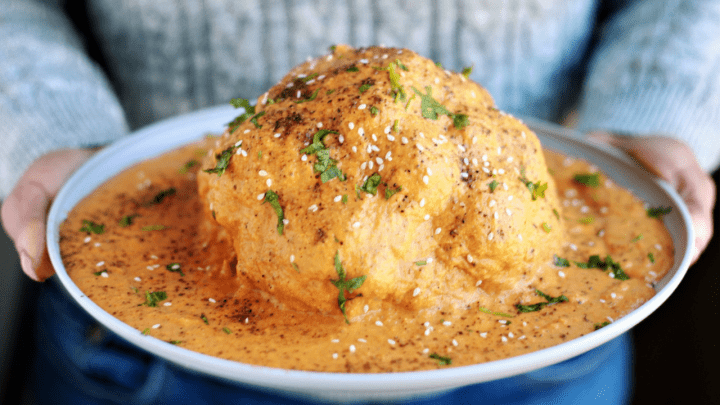 Directions
1. Heat Instant Pot to "Saute." Add oil, cumin seeds, cloves, peppercorns, black cardamoms, green cardamom and bay leaf. Stir.
2. Add onions. Add ginger garlic. Add salt and cook until onions are translucent.
3. Add in the spices at this point, coriander powder, chilly powder, and turmeric. Cook for another 2 minutes while stirring occasionally.
4. Add in the chopped tomatoes and mix well. Cook until the the oil starts separating.
5. If you have an immersion blender, throw in the cashews and milk and blend into a smooth paste. Slow add hot water.
6. If you don't have an immersion blender then make use of your blender to make a smooth paste, adding hot water slowly.
7. Now thoroughly wash the cauliflower and remove the bottom.
8. Add the trivet and a cup of water to the Instant Pot.
9. Set Instant Pot to High "Pressure" for 00:00 minutes. Turn valve to Seal. When the timer goes off, turn valve to Vent to Quick release the pressure.
10. Keep Instant Pot open and allow the cauliflower to cool.
11. Plate the Cauliflower in a serving dish and pour half the sauce made earlier.
12. You may choose to broil the dressed cauliflower for a couple of minutes.
13. Garnish it with cilantro, garam masala and roasted sesame seeds.
Freezer Meal:
1. To make ahead or turn into a freezer meal: Make as directed and then pour into a glass jar or glass container. Freeze or refrigerate until ready to eat.
2. Thaw it if frozen or warm it up in a sauce pan before use.
Recipe credit source: https://thebellyrulesthemind.net/instant-pot-whole-roasted-cauliflower-in-indian-masala/
Ingredients
1/2 cup cashews, soaked in almond milk
1 tsp red chilli pepper (optional)
1 tsp roasted sesame seeds (optional)
4 Reviews