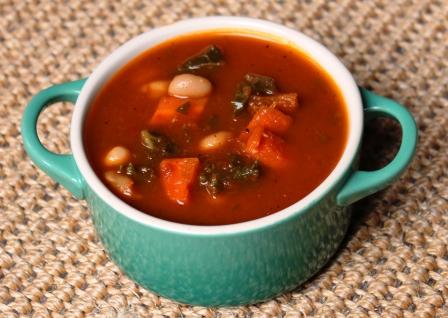 Directions
1. Preheat the oven to 400f/200c. Brush the baking sheet with a thin coat of olive oil. Arrange the squash, carrots, onion, tomatoes and garlic onto a sheet. Drizzle it with more olive oil and then sprinkle with sea salt and pepper. Toss the mixture to coat it and then roast the vegetables until they are brown and tender. Stir this occasionally for around 45 minutes.
2. Cut the squash and the carrots into half inch pieces and set them aside. Peel the garlic cloves and place them into a food processor. Add the onions and tomatoes to the mixture, pureeing them until its almost smooth. Pour half of the cup of broth onto the baking sheet and then scrape off any brown bits.
3. Into a large pot, transfer the vegetable broth and the vegetable puree, adding 5 and a 1/2 cups of broth using kale, bay leaf and thyme into the pot. Bring this to the boil and then reduce the heat, simmering uncovered until the kale becomes tender.
4. Add the beans, carrots and the squash into the soup. Simmer for 8 minutes so that all of the flavors become blended, adding more broth if necessary to thin the soup. Use salt and pepper for seasoning and discard the bay leaf and thyme sprigs when ready to serve.
Ingredients
1/2 small butternut squash that's been peeled, seeded and cut lengthwise
1 15oz can of White beans, drained
0 Reviews