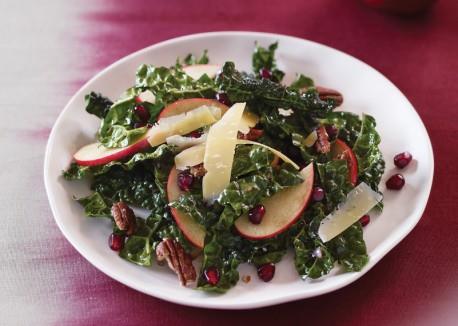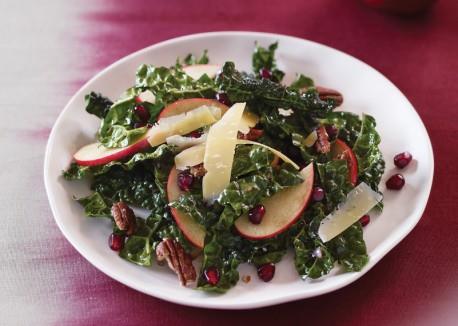 Directions
1. For the raw honey pecans, heat the oven to 350F/180C. Take a bowl and combine all of the ingredients into a small bowl, tossing until well coated. Place onto a parchment lined baking sheet and bake for 12 minutes, until toasted and fragrant. Stir occasionally. Let it cool to room temperature.
2. For the vinaigrette, whisk all the ingredients together and then season with salt and pepper if you desire.
3. To make the salad, place the kale into a large bowl and gently add 3 tbs of vinaigrette into the leaves, ensuring they are covered thoroughly. Toss in the apple, pomegranate seeds, before transferring to a serving bowl. Top with the raw honey pecans and the goats cheese to serve.
Ingredients
1 small peeled and finely minced shallot
1 12oz. bunch Tuscan kale, deveined and sliced in 1/2 inch thick ribbons (8 cups)
1 large red apple, cored, quartered and thinly sliced (1 1/2 cups)
1 1/2 oz. hard raw goats cheese, thinly shaved with a vegetable peeler (optional)
0 Reviews