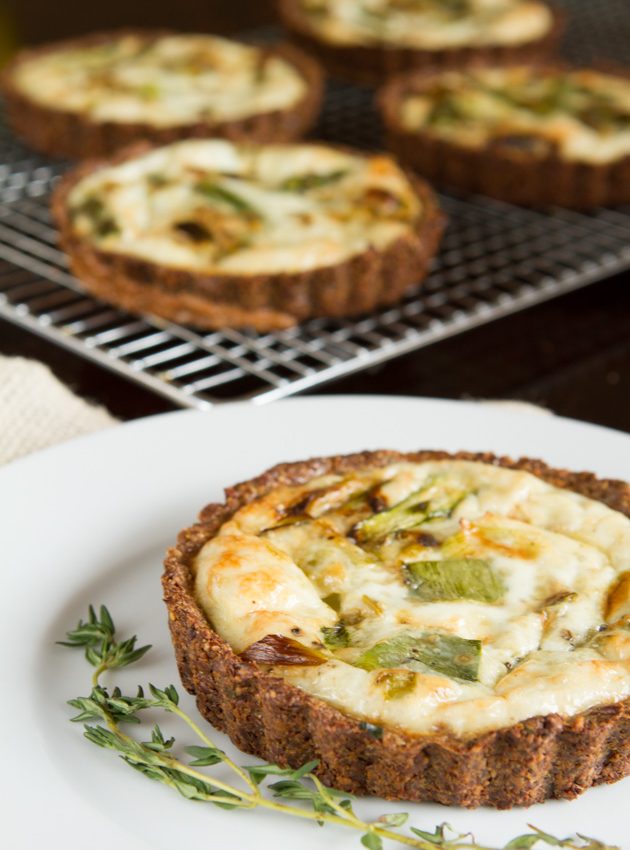 Nut and Grain Free Crusted Quiche
October 5, 2018
This Vegan-Keto Quiche is tasty and healthy! Experiment with the recipe and make appetizers, single or one big serving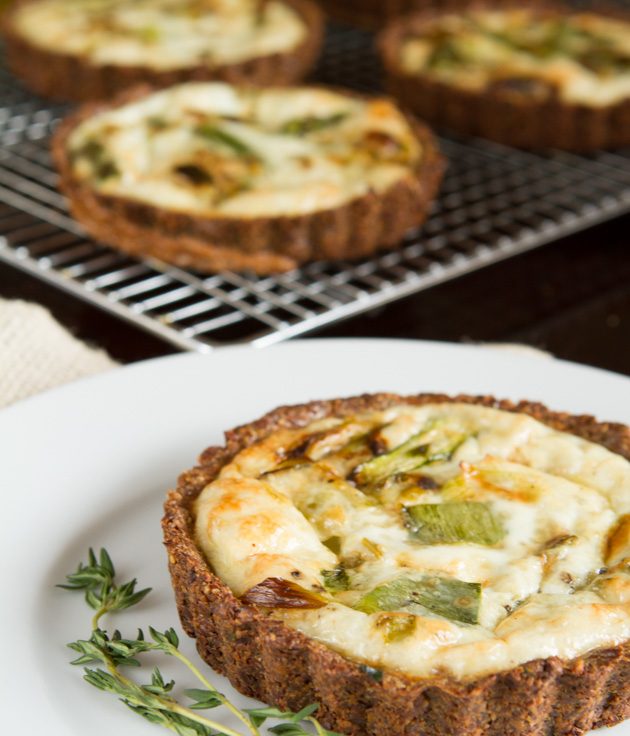 Directions
Preheat the oven to 225F/ 110°C and lightly oil 6, 3-inch tart pans with a dab of coconut oil. Place each on a baking sheet and set aside.
To a food processor, add the onion, garlic, oil, thyme, salt and pepper. Process until the mixture is smooth, then add the remaining crust ingredients and process until mixed through.
Transfer the mixture to each tart pan and shape into the pans, pressing up the edges. Bake the crust for 1 hour and 30 minutes. When finished, remove from the oven and set aside.
Now adjust oven to 350F / 180°C.
Heat coconut oil in a medium-sized frying pan on a medium heat. Add the leek, asparagus, salt and pepper and saute for 8 to 10 minutes, until golden then remove from heat and set aside.
Whisk the egg replacement of choice with the coconut milk and nutmeg in a small bowl. If using chia seeds make sure they have had enough time to sit in the water and combine into a egg-like texture before using.
Transfer the cooked leek and asparagus to the cooked crust, then pour the "egg" mixture over the top.
Cook the quiches in the oven for another 30-35 minutes until the tops are lightly brown.
Allow to sit for 10 minutes before serving.
This recipe is adapted from the HealthFul Pursuit website. For the original recipe and other healthy ideas and plans visit; https://www.healthfulpursuit.com/recipe/paleo-quiche-with-a-nut-free-grain-free-crust/
Ingredients
1 ¼ Cup Roughly Ground Flax Seeds Or Milled Flax Seeds
¼ Cup Sunflower Seeds, Ground Fine
Freshly Ground Pepper, To Taste
1 Tablespoon Extra-Virgin Coconut Oil
1 Leek, Halved and Thinly Sliced, Then Well Washed
8 Asparagus Spears, Halved and Thinly Sliced
4 Tablespoon flax meal (mixed well with 12 Tablespoon water) OR 6 Tablespoon Chia Seeds (mixed well with hot water) – Egg Replacement
0 Reviews