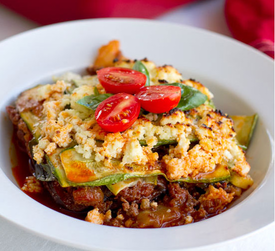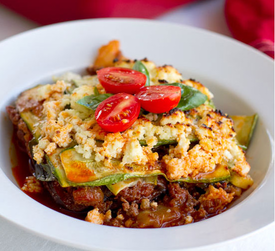 Directions
1. Make the sauce by heating 2 tsbp of olive oil in the pan and then saute the onion for 5 minutes, with a pinch of salt. Add the 1 tbsp of ghee and turn the heat up high.
2. Add the mince to the frying pan and cook for around 5-6 minutes until browned. Add the pepper, garlic, paprika and salt together and fry for around 3-4 minutes. Then add the tomato passata and bring it to the boil before turning the heat down to a simmer and cooking for 10 minutes.
3. In the meantime, sprinkle the eggplant slices with sea salt and set aside for 10 minutes, drawing out the juices. Rinse and then pat dry.
4. Heat the oven to 180C/355F. In a frying pan, heat 2 tablespoons of olive oil and the 1 teaspoon of ghee. The eggplant should be fried in batches for 3 minutes on each side until golden brown in colour. More olive oil and ghee can be added as necessary. Set this aside as the layer ingredients should now be ready.
5. Take the baking dish from the oven and layer the lasagne ingredients in this order: pre-cooked sweet potatoes, 1/3 tomato sauce for the mince, eggplant slices, mushrooms, fresh basil leaves, the remaining tomato sauce, zucchini, baby spinach along with the black pepper. Cook this in the oven for about 35-40 minutes at 180C/355F.
6. If you wish to add raw goats cheese on top, add on top of the lasagne around the 20 minute cooking time mark. For the last 15 minutes this should be increased to 200C/390F. Garnish with cherry tomatoes and basil to finish and serve with a green salad.
Ingredients
1 large eggplant sliced into 1 cm thick disks
1 large sweet potato, peeled and thinly sliced
3 medium sized zucchini sliced vertical and into thin ribbons
1 and a 1/2 cups of goats cheese
1 Review