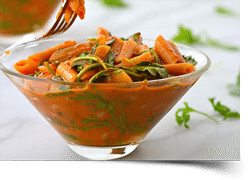 Directions
Boil water, add the pasta and simmer gently for 4 minutes.
Cook the onions and garlic in the olive oil until soft. Add the tomatoes, basil, coconut milk and coconut aminos if using.
Bring to a boil and then simmer gently until the sauce thickens slightly.
Add the sauce, and arugula to the Penne, heat through until the arugula starts to wilt, then serve immediately.
0 Reviews