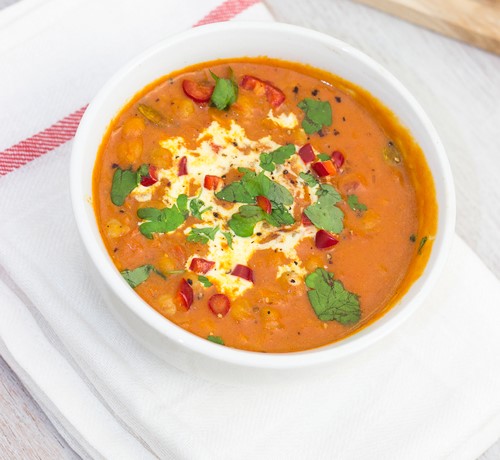 Directions
1. Heat the oven grill and place a rack in the middle of the oven. Strain the tomatoes and reserve the juices.
2. Spread the tomatoes on a rimmed baking sheet, drizzle it with olive oil and grill until it becomes lightly browned which takes around 8 minutes.
3. Combine the browned tomatoes, garlic, chilli powder, coconut milk, carrot, reserved tomato juice and lemon juice, pureeing it in a food processor until smooth.
4. Transfer this to a medium saucepan and bring to the boil over a medium heat. Reduce to simmering and cook for 5 minutes. Season with the pepper and salt, garnishing it with parsley leaves to serve.
Ingredients
14 ounces (1 can) diced tomatoes in juice (no added sugar)
1 small fresh or dried red chilli pepper deseeded
1 carrot, peeled and thinly sliced
1 tablespoon fresh lemon juice
Coarse salt and ground pepper, to taste
0 Reviews