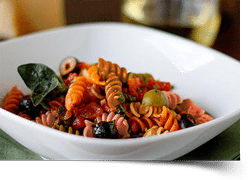 Directions
Heat oil in a deep sided pan. Add capers and garlic, sauté until fragrant. Add tomatoes and chili. Season with salt and pepper. Bring to boil, reduce heat. Cover and simmer gently for approximately 20 minutes. Stirring as necessary.
While the sauce is cooking, place a large pot of water on to boil. When boiling, add Red Lentil Fusilli and simmer very gently for 4 minutes.
After sauce has simmered for 20 minutes, add olives, oregano and basil. Stir to combine. Add Red Lentil Fusilli, stir well and serve immediately.
Ingredients
4 tablespoons extra virgin olive oil
1 tablespoon – capers, drained
1 small red chili – seeded and chopped
1 tablespoon fresh oregano – roughly chopped
0 Reviews