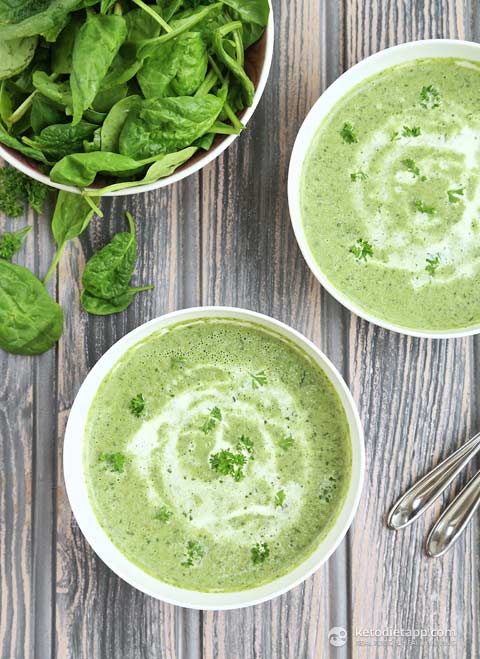 Superfood Keto Soup
Soup Ketogenic, Ketogenic-Vegan
December 12, 2019
This Keto/Paleo diet style soup is low in carb and high in micronutrients. Combines supergreens that are rich in antioxidants and vitamins.
Prep: 10 mins
Cook: 20 mins

10 mins

20 mins

30 mins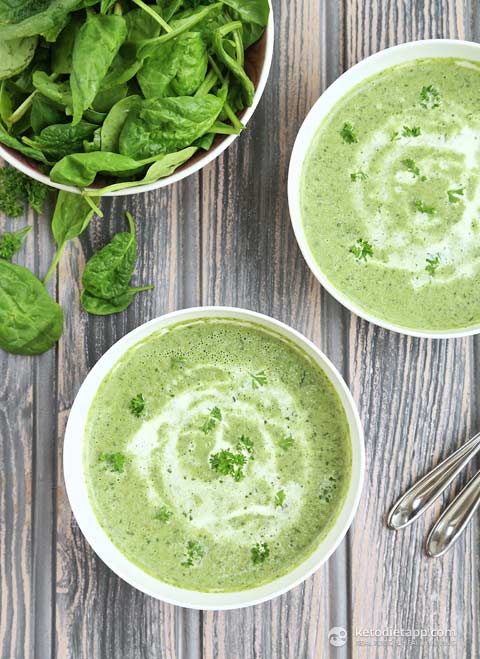 Directions
1. Peel and finely dice the onion and garlic. Place in a soup pot or a Dutch oven greased with ghee and cook over a medium-high heat until slightly browned. Wash the spinach and watercress and set aside.
2. Cut the cauliflower into small florets and place in the pot with browned onion. Add crumbled bay leaf. Cook for about 5 minutes and mix frequently.
3. Add the spinach and watercress and cook until wilted for just about 2-3 minutes.
4. Pour in the vegetable stock and bring to a boil. Cook until the cauliflower is crisp-tender and pour in the cream (or coconut milk).
5. Season with salt and pepper. Take off the heat and using a hand blender, pulse until smooth and creamy.
6. Serve immediately or chill and keep refrigerated for up to 5 days. Freeze for longer.
7. Just before serving, drizzle some cream on top. Enjoy! 🙂
Recipe Credit Source: https://ketodietapp.com/Blog/lchf/superfood-keto-soup
Ingredients
1 medium head cauliflower (400g/14.1 oz)
1 medium white onion (110g/3.9oz)
200 g fresh spinach (7.1oz) or frozen spinach (220g/7.8oz)
1 liter vegetable stock or bone broth or chicken stock - you can make your own (4 cups/1 quart)
1 cup cream or coconut milk (240ml/8 fl oz) + 6 tbsp for garnish
1/4 cup ghee or coconut oil - you can make your own ghee (55g/1.9oz)
1 tsp salt or to taste (I like pink Himalayan rock salt)
1 Review