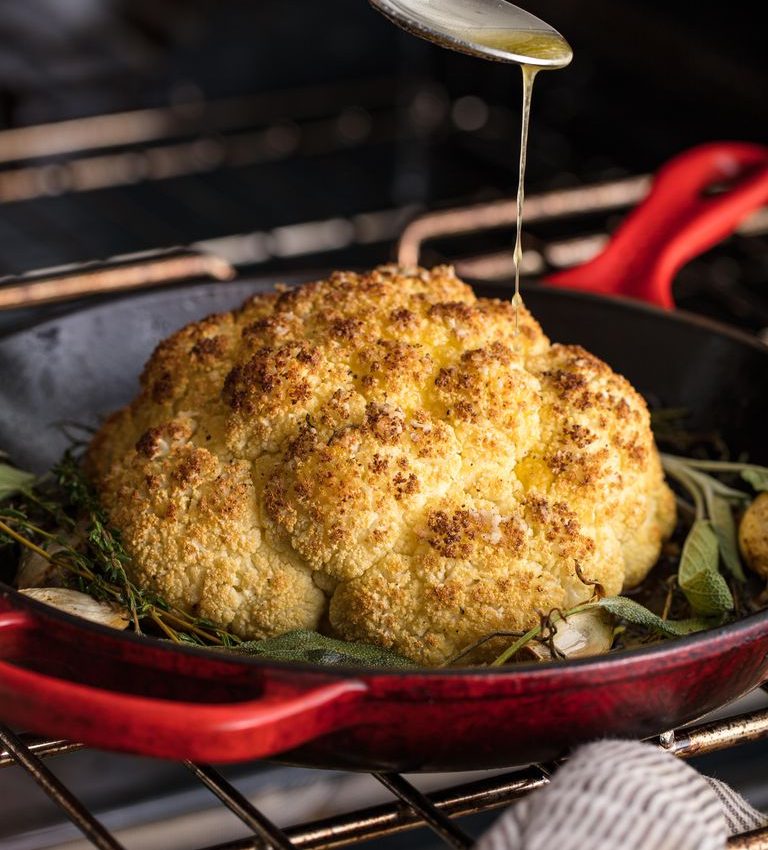 Thanksgiving Cauliflower
December 11, 2018
A perfect family meal for a special occasion, completely free of meat!
Prep: 15 mins
Cook: 1 hr 30 mins

15 mins

1 hr 30 mins

1 hr 45 mins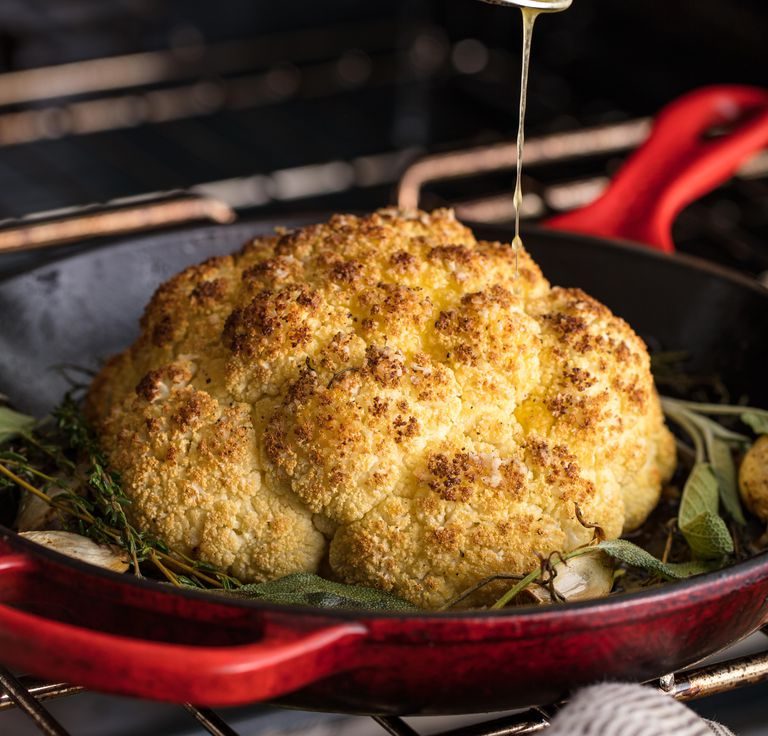 Directions
Preheat oven to 450°F. Put cauliflower in a large oven-safe skillet, rub all over with 2 tablespoons of melted butter, and season with salt and pepper. Arrange garlic and herbs around cauliflower.
Bake until cauliflower is tender and slightly charred, brushing with remaining 2 tablespoons melted butter halfway through, 1 hour to 1 hour 30 minutes. (Pierce cauliflower with a paring knife to check if it's ready.)
In a small saucepan over medium heat, melt butter. Add onion and cook, stirring until soft, 5 minutes. Stir in mushrooms and herbs and season with salt and pepper. Cook, stirring, until mushrooms are soft and golden, about 4 minutes.
Add 1 or 2 cloves of the roasted garlic (skins removed), breaking up cloves with a wooden spoon. Stir in flour and cook 1 minute, then whisk in 2 cups of broth and bring mixture to a boil.
Reduce heat to low and simmer until mixture has thickened to your desired consistency, 5 minutes. (Add more broth if desired.)
Recipe taken from Delish, find it here: https://www.delish.com/cooking/recipe-ideas/recipes/a50157/thanksgiving-cauliflower-recipe/
Ingredients
4 tbsp. melted butter, divided
4 whole cloves garlic (skin-on)
4 oz. cremini mushrooms, finely chopped
1 tsp. freshly chopped rosemary
0 Reviews