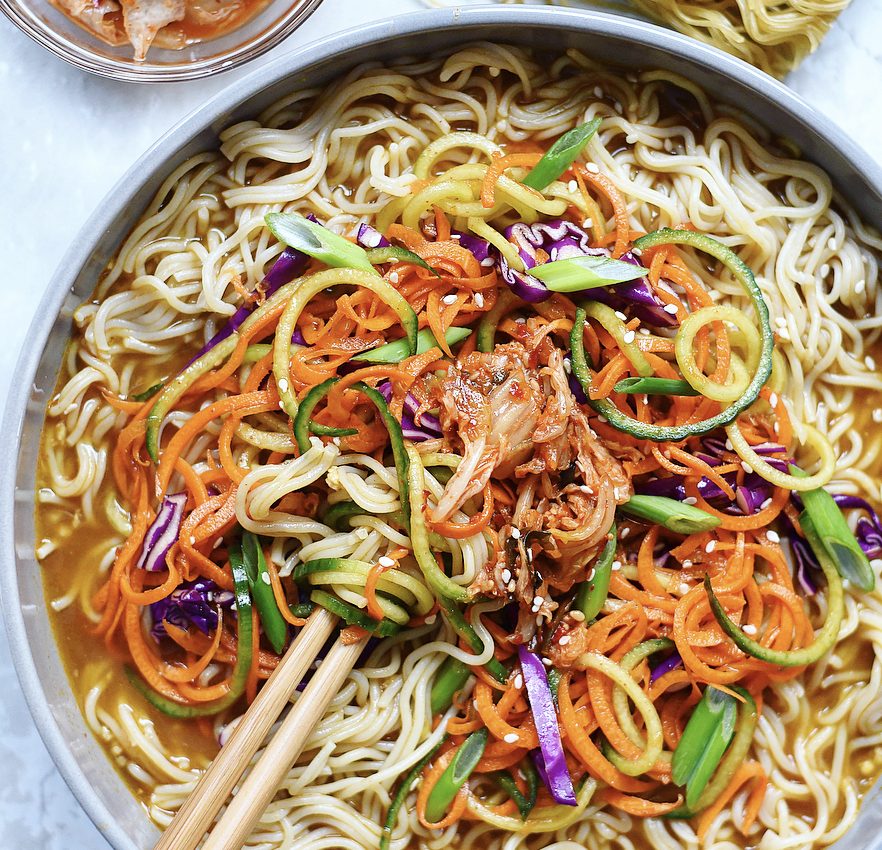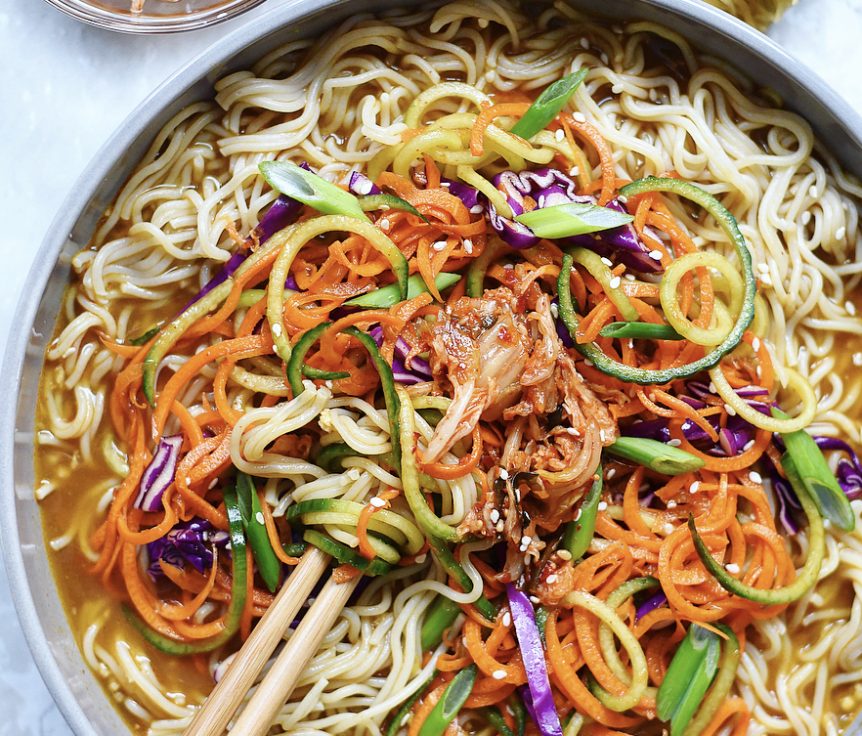 Directions
Making The Broth:
1. Heat up the sesame oil in a large stock pot. When hot, add the fresh ginger, garlic and scallions. Sauté briefly, being careful not to burn.
2. Add the vegetable broth, soy sauce and gochujang sauce. Allow to simmer while you prepare the other ingredients.
Making The Sweet & Sour Salad:
1. Spiralize or julienne the carrot and the English cucumber. Thin slice the purple cabbage. Combine in a medium-sized glass bowl and set aside.
2. Prepare the dressing by combining the gochujang, rice vinegar, soy sauce, maple syrup and sesame oil. Stir until well-combined and toss with the vegetables.
Putting the Brothy Bibim Guksa Bowls Together
1. Prepare the Buckwheat Noodles in accordance with package directions. Al dente is nice so that they stay pleasantly chewy in the broth.
2. Add the prepared noodles to the bottom of your noodle bowls, ladle to hot broth over the noodles and top with the sweet and sour vegetable salad. Finish with a small spoonful of kimchi, sesame seeds and scallion greens.
Recipe Credit Source: https://herbivoreskitchen.com/2020/01/kimchi-curious-give-this-twist-on-korean-food-brothy-bibim-guksa-a-try/
Ingredients
For The Gochujang Spiced Broth:
1 tbsp Fresh Ginger, peeled and minced
2 Garlic Cloves, minced or crushed
3 Scallions, sliced thin with the white and green parts separated
2 pints Low-sodium Vegetable Broth
For The Sweet & Sour Salad:
1 Carrot, washed and spiralized (or julienned)
1/2 head of Purple Cabbage, sliced thin
For Putting The Bibim Guksa Bowls Together:
0 Reviews