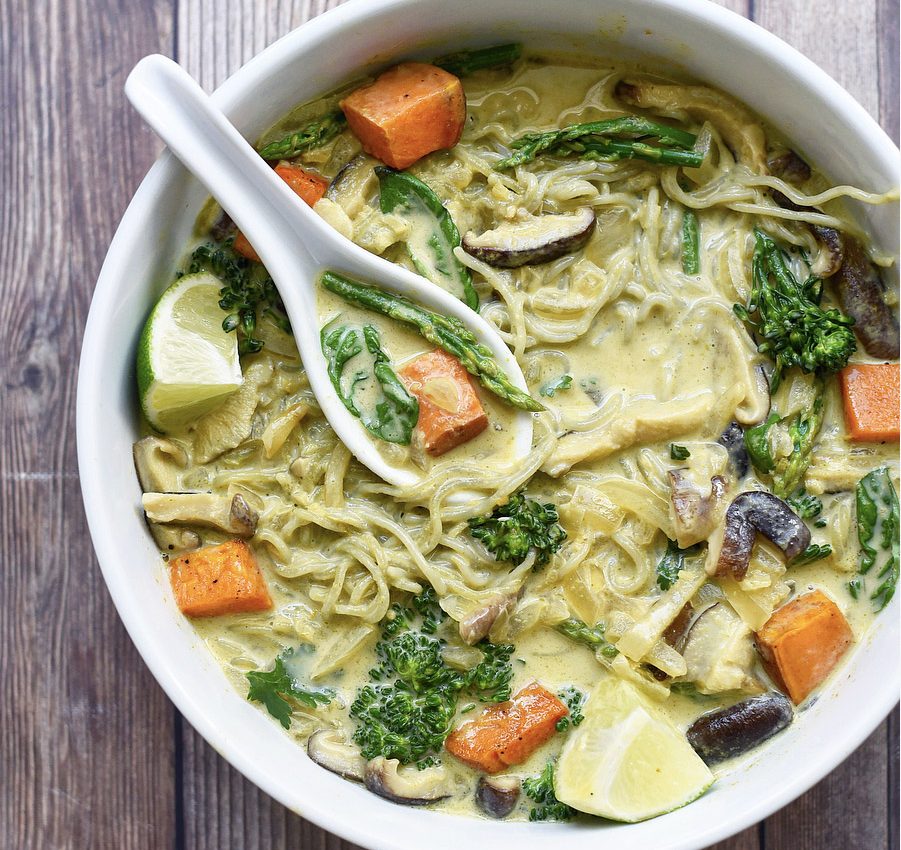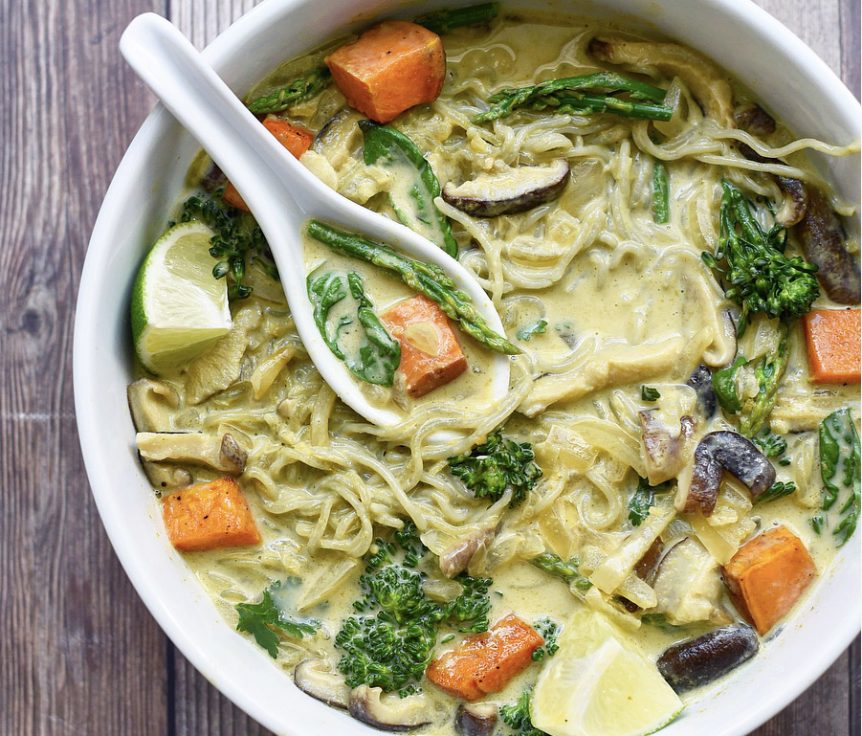 Directions
1. Preheat your oven to 450 degrees.
2. Wash and dry the sweet potatoes, then dice them into bite-sized pieces. Toss in 1 T. of a neutral-tasting, high-heat oil (I like to use avocado or grapeseed oil) and sprinkle with 1 T. of cumin powder.
3. Spread the sweet potatoes out on a baking sheet and roast for 25-35 minutes. Check the potatoes every 5-10 minutes and toss them around 15 minutes for even roasting.
4. Prepare your broccolini, asparagus, mushrooms, onion, garlic, ginger, basil and cilantro.
5. While the sweet potatoes are roasting, add 1-2 inches of water to a large, deep skillet or stockpot and bring to a boil. Once boiling, add the broccolini and asparagus. Blanch until they are bright green (about 2-4 minutes) and immediately transfer to a bath of ice water. Allow to cool for 1-2 minutes and then remove.
6. In a large stockpot, heat the coconut oil until shimmering. Add the mushrooms and sauté on high heat until they turn a golden brown then remove from the pot and set aside.
7. Add the onions into the stockpot and reduce the heat to medium. Sauté the onions until soft and translucent. About 5 minutes. Add the garlic and ginger and continue to sauté for 2-3 more minutes, being careful not to burn. Stir in the green curry paste until cook until fragrant about 1-2 minutes. Reduce the heat to medium-low and add the coconut milk, water and tamari. Simmer until warmed through.
8. Cook the buckwheat noodles al dente in a separate pot. Drain and rinse with cold water. You want to avoid overcooking the buckwheat noodles.
9. Add the cooked noodles to your serving bowls and add ~1 cup of the curry broth. Add the roasted sweet potatoes, broccolini and asparagus. Top with torn basil and cilantro and season with fresh limes and sriracha sauce.
Recipe Credit Source: https://herbivoreskitchen.com/2019/12/vegan-thai-green-curry-noodle-bowl/
Ingredients
2 sweet potatoes, washed and diced into small, bite-sized pieces
1 tbsp high-heat neutral tasting oil like avocado oil or grapeseed oil
2 bunches of broccolini, washed and trimmed
1 bunch of asparagus, washed with the ends trimmed
8-10 shiitake mushrooms, rinsed, destemmed and sliced
2 x 14 oz. cans full fat, unsweetened coconut milk
1 cup of water or vegetable broth
1 package of buckwheat noodles
1-2 fresh limes, washed and quartered
0 Reviews