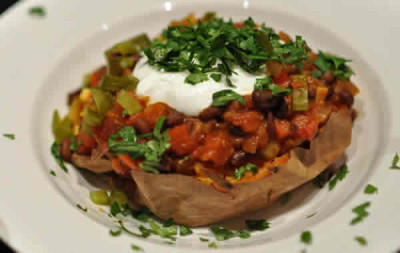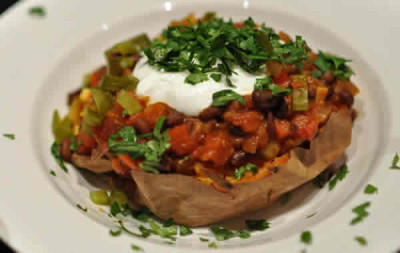 Directions
1. Heat oven to 400F / 200C / Gas 6
2. Place sweet potatoes on a baking tray in the oven. Bake for at least one hour, until tender.
4. Add red and green bell peppers, mushrooms and onion and cook until softened.
5. Add garlic and cook about a minute, then add chili powder, cumin, tomatoes and beans.
6. Reduce heat, cover and simmer about 20 minutes.
7. Add zucchini and continue cooking until tender, about 10 minutes.
8 Split the sweet potato and fluff the flesh a little with a fork. Pile some of the chilli on top and garnish with some chopped cilantro (coriander) if desired.
Ingredients
1 medium sweet potato per person
1 large handful mushrooms, sliced
1 jar black/kidney beans, drained and rinsed
2 cups zucchini (courgette) or yellow squash (or a combination) diced
0 Reviews