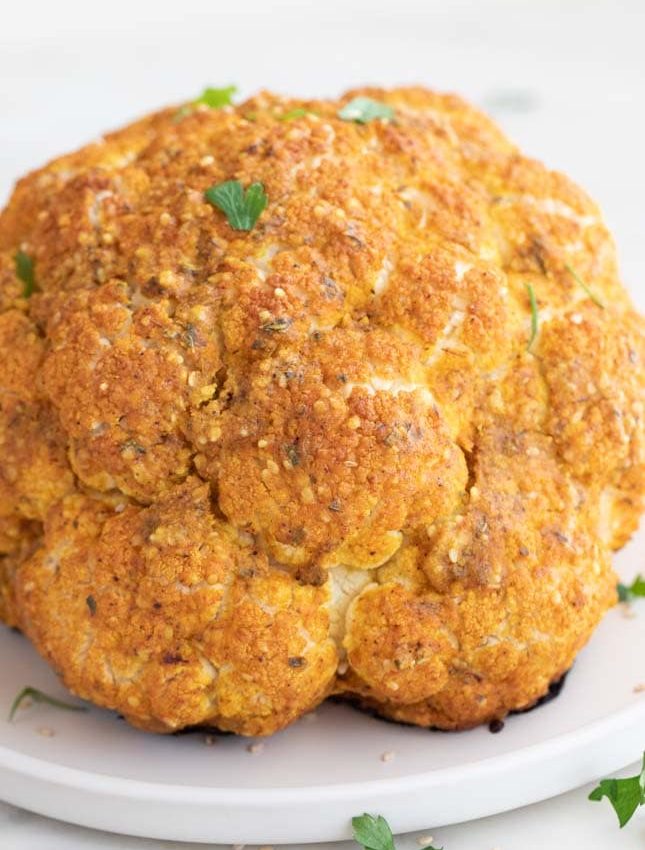 Whole Roasted Cauliflower
Main, Side-dishes Ketogenic, Ketogenic-Vegan
September 1, 2020
Whole roasted cauliflower, a great vegan alternative for the holidays, special occasions or everyday cooking. It's a delicious side or main dish.
Prep: 5 mins
Cook: 50 mins

5 mins

50 mins

55 mins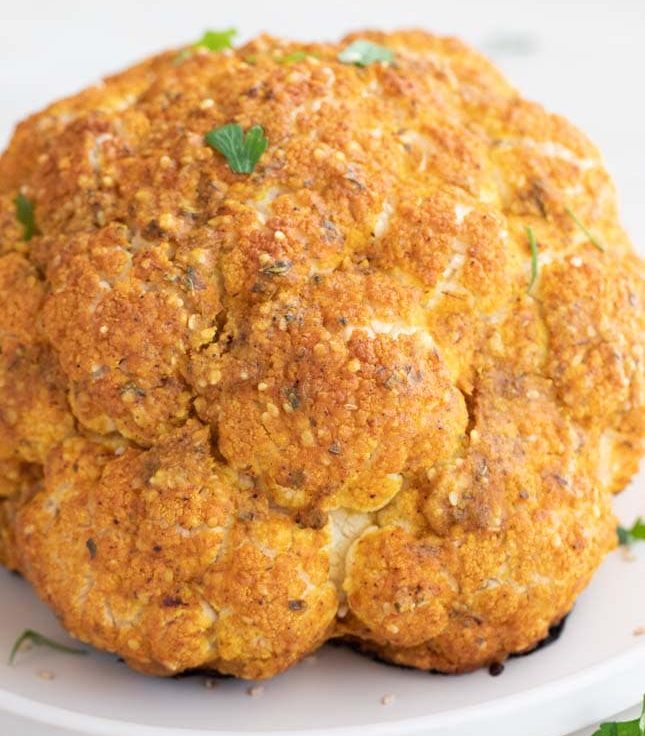 Directions
1. Preheat the oven to 350ºF or 180ºC.
2. Mix all the ingredients in a bowl (except the cauliflower) until well combined.
3. Trim the base of the cauliflower to remove any green leaves and the woody stem.
4. Rub the marinade all over the cauliflower, then place onto a lined baking sheet and bake for 50-60 minutes or until golden brown.
5. Remove from the oven and allow to slightly cool before serving. You can add some chopped cauliflower on top, but it's totally optional.
6. Keep leftovers covered in the fridge for up to 4 days.
Notes:
Feel free to use oil instead of tahini (extra virgin oil is my favorite choice, but any oil will do). You can add about 3 tbsp of oil and no water.
2. Use any herbs or spices you want or have on hand.
3. You could also add some minced garlic, but it burns easily, so keep that in mind.
4. You can use a basting brush to rub the marinade all over the cauliflower, but it's not necessary. You can also use your hands, a spoon or even a paper napkin.
5. Baking time may vary depending on your oven, the size of your cauliflower or how soft you want it.
6. If your cauliflower is already golden brown, but not soft enough, cover with some aluminum foil and bake until soft.
7. You can freeze it but its recommended to chop the cauliflower and keep in an airtight container in the freezer for 1-2 months.
8. You can improve the recipe by adding 2 tbsp of water instead of 2 tsp.
Recipe Credit Source: https://simpleveganblog.com/whole-roasted-cauliflower/
0 Reviews