Not sure what to prepare for your Dad this Father's Day? How about making this Italian Meatball dish with Chickpea Fusilli? This delicious meal is ready to eat in 5-10 minutes and is the perfect way to show your Dad gratitude on his special day.

Chickpea Fusilli with Italian Meatballs Recipe
What will you be cooking for your Dad this Father's Day? Here's some inspiration with this Chickpea Fusilli and Italian Meatballs dish…
Serves 3-4
Ingredients:
Pasta:
1 x 250g (8.82oz) Chickpea Fusilli Pasta
Meatballs:
1.5  pounds  (680g) of minced grass fed beef
1 small onion, minced
1 egg
2 tbsps fresh parsley
2 garlic cloves, minced
3/4 tsp sea salt
1/4 tsp black pepper
1.5 tbsp olive oil
Sauce:
2 garlic cloves, minced
3/4 cup onion, finely chopped
2 tbsps tomato puree
2.5 cups of tomato passata
1/4 cup water
1 tsp paprika
1 tsp red pepper (chilli flakes)
3 tsp dried Italian herb mix (Parsley, Basil, Thyme, Oregano)
Extra Virgin Olive Oil, for cooking
1 tsp sea salt
1 tsp black pepper
Instructions:
Add the Chickpea Fusilli pasta to a large pan of boiling water. Reduce to a simmer. Stir occasionally. Cook for 4-5 minutes maximum. Drain well, flash under cold water for a few seconds to stop cooking. Toss in a little olive oil to taste. Set aside.
Add all of the meatball ingredients into a bowl and mix well using your hands. Form into balls.
Heat 1 ½ tbsp. olive oil in a large non-stick frying pan over a medium high heat. Add the meatballs and cook until browned. Sauté for 2-3 minutes until translucent. Add the sauce ingredients and bring to a medium-low heat to simmer.
Transfer the meatballs with the sauce into the cooked Chickpea Fusilli pasta.
Combine the pasta and meatballs. Serve on a plate with some sprigs of fresh parsley.
Macronutrients:
A serving of this Chickpea Fusilli and Italian Meatballs recipe consists of 561 calories, 17g Fat, 42g Carbohydrates, 15g of Protein and 33g of Dietary Fiber.
What is Chickpea Pasta?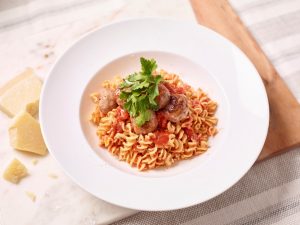 Chickpea Fusilli pasta is a nutritious and healthy meal replacement for traditional wheat pasta. High in protein, fiber and iron, Really Healthy Pasta™ is gluten-free, organic and ideal for the father who has overindulged or is looking to stay in shape by eating more clean foods. Fathers who want to improve their health will find that Really Healthy Pasta™ is the perfect meal accompaniment for all of their favourite dishes including lean meats, fish, meatballs, veggies and more.
Really Healthy Pasta™ Nutrition Facts
What makes Really Healthy Pasta™ different is that each 83g serving contains 1103KJ/264kcal of Energy, 5.1g of Fat, 0.9g of Saturates, 38.3g of Carbohydrates, 1.9g of Sugars, 1.4g of Dietary Fiber, 13.9g of Protein and nil amount of Salt.
Where can I get this from?
Really Healthy Pasta™ is available to buy online from Good Health Naturally. There are pastas available in Fusilli and Penne shapes and in a wide range of flavours including Black Bean, Buckwheat with Flaxseed, Chickpea, Mung Bean and Red Lentil.
Treat Your Dad To A Healthy Pasta Dish This Father's Day…| www.reallyhealthyfoods.com