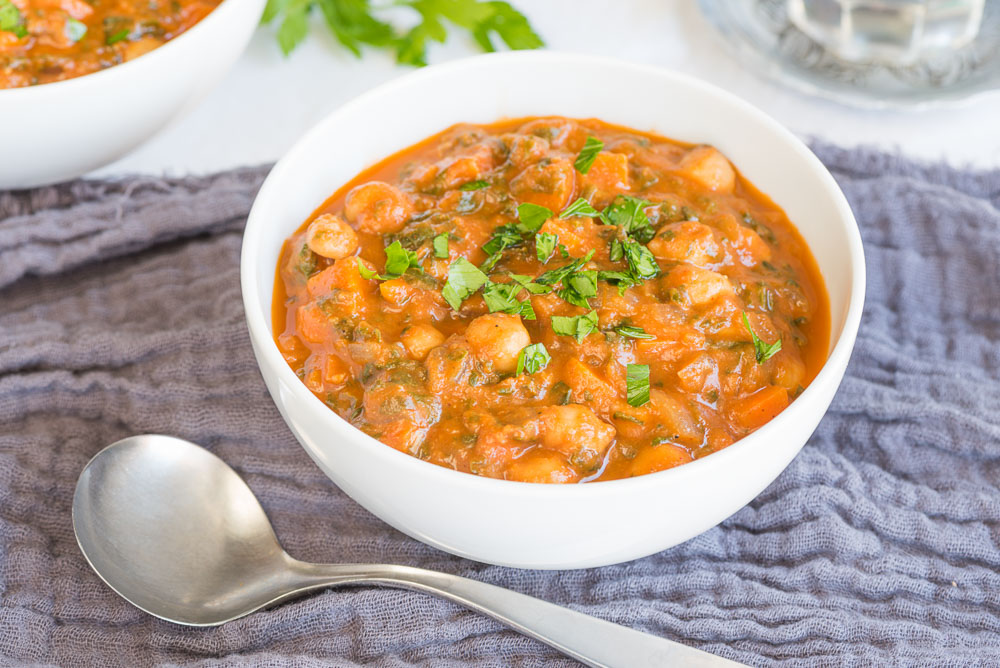 Chickpea Spinach Stew
January 3, 2020
This hearty vegan stew makes for a nutritious and comforting dinner bowl, perfect for cosying up with on a winter evening.
Cook: 35 mins

35 mins

35 mins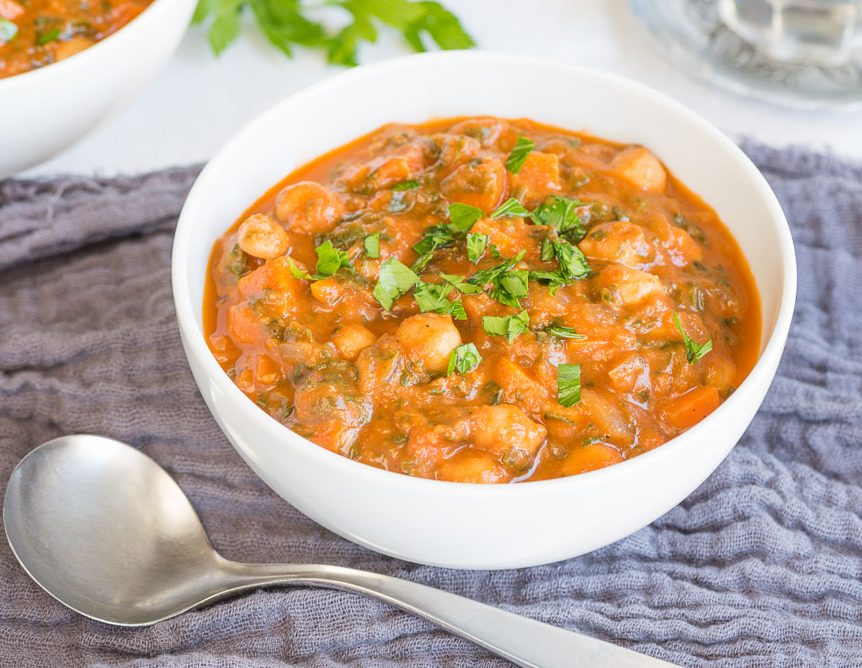 Directions
1. Place the canned tomatoes (including the juice), 1/2 cup of the garbanzo beans, vegetable broth and ginger in your blender and blend until smooth. Set aside for now.
2. Heat a medium-sized pot over medium heat for 2 minutes. Add the carrot and onion and saute for 5 minutes, stirring occasionally. Add the garlic and saute for 3 additional minutes, stirring frequently, until the onions and garlic are light golden brown.
3. Add the sweet paprika, smoked paprika and cumin and stir for 30 seconds until wonderfully fragrant. Add the rest of the chickpeas (2 1/2 cups) and stir for 2 minutes. It's okay if the spices stick a bit to the bottom of the pan.
4. Transfer the blender mixture to the pot and stir. Add the bay leaf, coconut aminos, soy sauce and salt and stir, making sure to stir up any stuck bits from the bottom of the pot.
5. Simmer for 20 minutes (without a lid), stirring occasionally. Remove the pot from the heat and remove and discard the bay leaf. Add the spinach, parsley, red wine vinegar and black pepper and stir until the spinach is wilted.
Recipe Credit Source: https://www.onegreenplanet.org/vegan-recipe/chickpea-spinach-stew-vegan/
Ingredients
1 1/2 cups Canned Dice Tomatoes, Undrained
3 cups Chickpeas, Drained and Rinsed, (2 cans, 15 ounces each, divided)
1 1/4 cups Low-sodium Vegetable Broth
1 inch chunk of Ginger Root, peeled and roughly chopped
1 1/2 cups Chopped Sweet Yellow Onion
5 cloves of Garlic, finely chopped
5 cups Fresh Baby Spinach, Chopped
1 tbsp Chopped Flat Leaf Parsley
0 Reviews