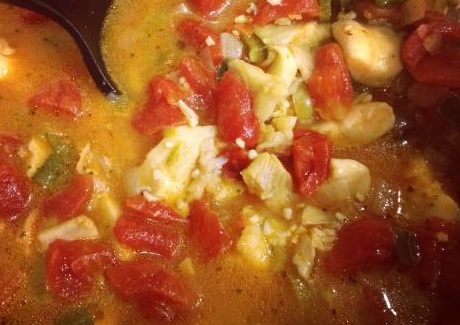 Directions
1. Heat oil in a large high-sided skillet or Dutch oven over medium heat.
2. Add onion and cook, stirring occasionally, until softened, about 2 minutes. Add garlic and cook, stirring, for 1 minute.
3. Add fish, tomatoes and their juices, chilli pepper, cilantro, olives, capers, oregano and salt; stir to combine.
4. Add up to 1/2 cup water if the mixture seems dry. Cover and simmer for 20 minutes.
5. Remove from the heat. Serve warm or at room temperature, garnished with avocado. Serve with your favourite crunchy greens.
Ingredients
2 tablespoons extra-virgin olive oil
1 pound flaky white fish, such as wild haddock or cod, cut into 1 1/2-inch pieces
1/4 cup packed chopped fresh cilantro/coriander
2 tablespoons sliced pimiento-stuffed green olives
1 Review