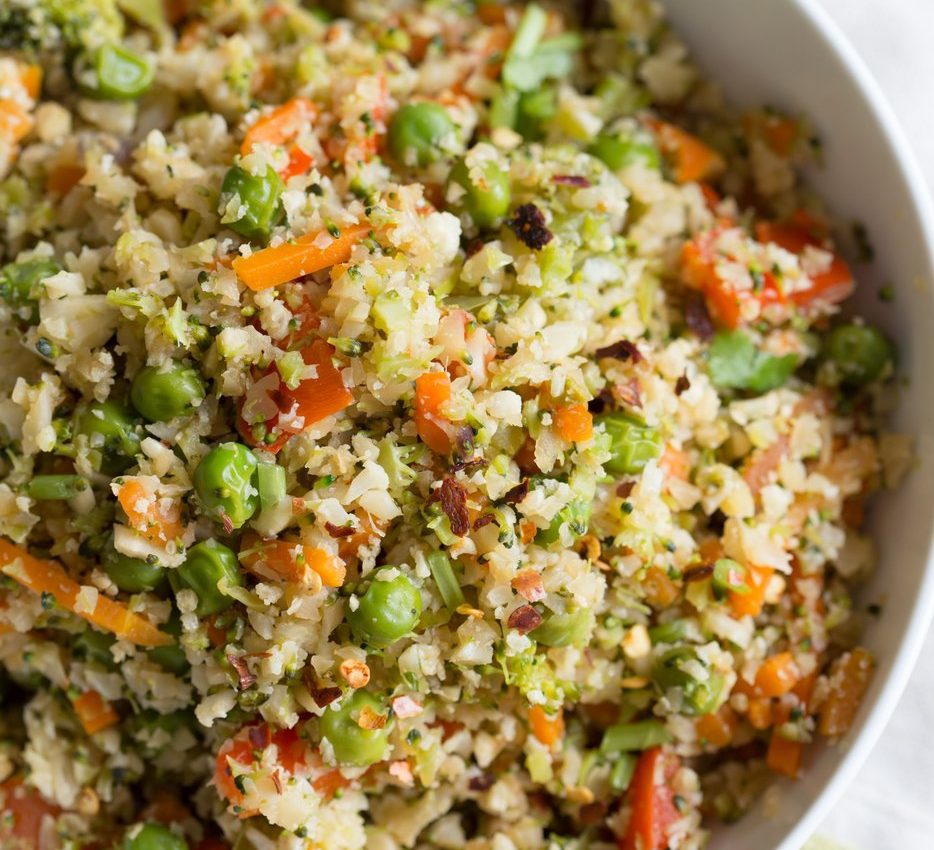 Vegan Cauliflower Fried Rice
Dinner Ketogenic, Ketogenic-Vegan, Vegan
September 19, 2019
This vegan recipe is low-carb, and is gluten-free, grain-free and nut-free. Perfect with stir-fries.
Prep: 10 mins
Cook: 15 mins

10 mins

15 mins

25 mins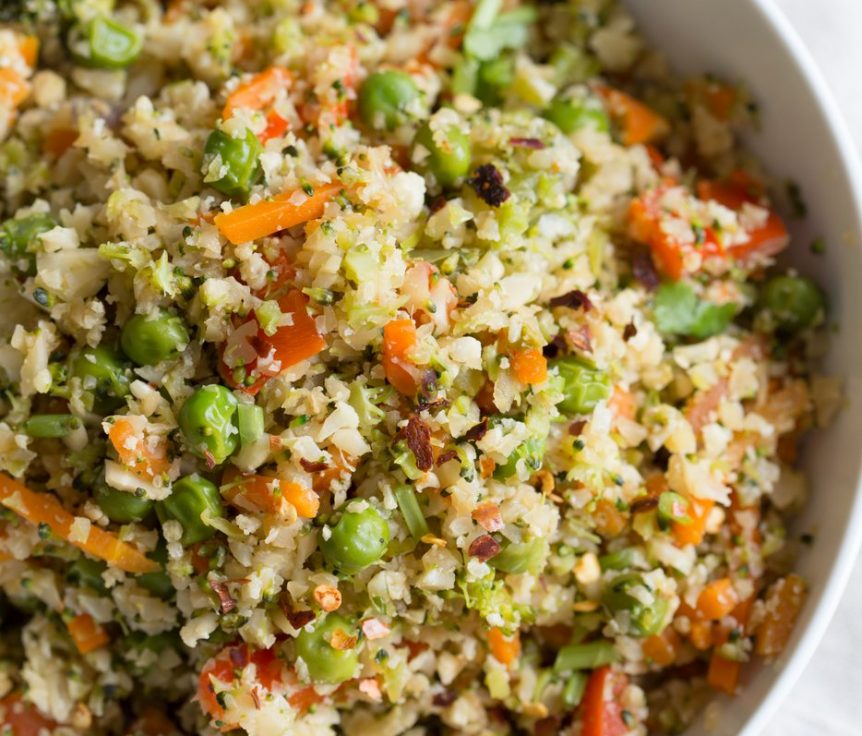 Directions
1. Cook onion and garlic in oil (or 1 tbsp broth) over medium heat until golden. Add ginger, bell pepper, veggies, peas and carrots and a dash of salt. Mix, cover and cook for 3 to 4 minutes.
2. Add the shredded cauliflower or cauliflower+ broccoli, sauces, salt and pepper and mix well. (I use a food processor with S blade for making shredded cauliflower rice. Chop and pulse until evenly shredded. Use similar size florets for best result).
3. Cover and cook for 5 minutes. Fluff really well, cover and let sit to steam for another 2 minutes. You want the cauliflower to be cooked to a bit more than al dente, but still have just a slight bite.
4. Taste and adjust salt, flavor. Fluff again. Serve hot as is or with some stir fry or baked tofu. Add some asian chile sauce or some soy sauce for garnish when serving as is. I serve it with some stir fry like the Baked Tofu and Eggplant with Soy Lime Sauce.
Cauliflower Fried Rice Recipe Credit: https://www.veganricha.com/2018/03/cauliflower-fried-rice.html#wprm-recipe-container-28127
Ingredients
1/4 cup (40g) onion or shallots, chopped
4 cloves of garlic, finely chopped
1/2 cup (74.5g) chopped bell pepper
1/2 (0.5) head of medium cauliflower, 2.5 to 3 cups shredded
1-2 tsp sambal oelek or asian chile sauce
A generous dash of black pepper
1 Review