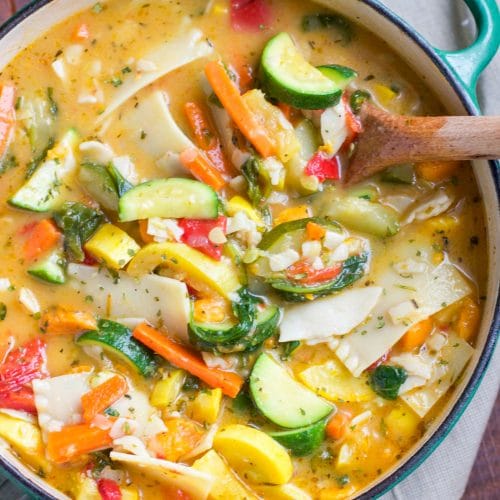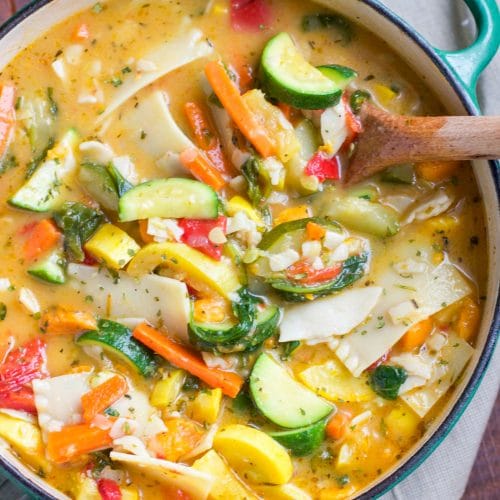 Directions
1. In a large dutch oven, saute the onions, garlic, carrots, and sweet potatoes in olive oil for 5-8 minutes or until they've softened slightly.
2. Add the Italian seasonings, parsley, turmeric, sea salt, pepper, and a bay leaf. Saute for 1-2 minutes. Add the vegetable broth, bring it to a simmer and then reduce the heat to medium-low. Cover with a lid and let it cook for 15-20 minutes or until all of the vegetables are tender.
3. Add the zucchini, yellow squash, red peppers, and spinach. Replace the lid, and let it cook for 5 additional minutes. Be careful not to overcook the squash, peppers, and spinach-- you want them to be tender but not mushy. Add the fresh lemon juice and stir it in.
4. (Cook the noodles of your choice while the soup is cooking) In a separate pot, bring water to a boil and season with salt. Break up the lasagna noodles and put them into the boiling water. Cook the noodles according to package instructions.
5. Put a few noodles in each bowl and serve the soup on top of it. Garnish with parsley.
Recipe Credit Source:
https://www.staceyhomemaker.com/best-vegetable-lasagna-soup/
Ingredients
1 tbsp Olive Oil (or 2-3 tbsps vegetable broth)
2 medium sweet potatoes, chopped
1/2 tsp Himalayan Pink Sea Salt
2 medium Yellow Squash, chopped
12 oz. box of Gluten-Free Noodles (Can use rice noodles, buckwheat etc)
0 Reviews